CICON¶
The test controller unit:
Provides remote console and power/reset control for base stations.

Drives LTE modem banks.
Views¶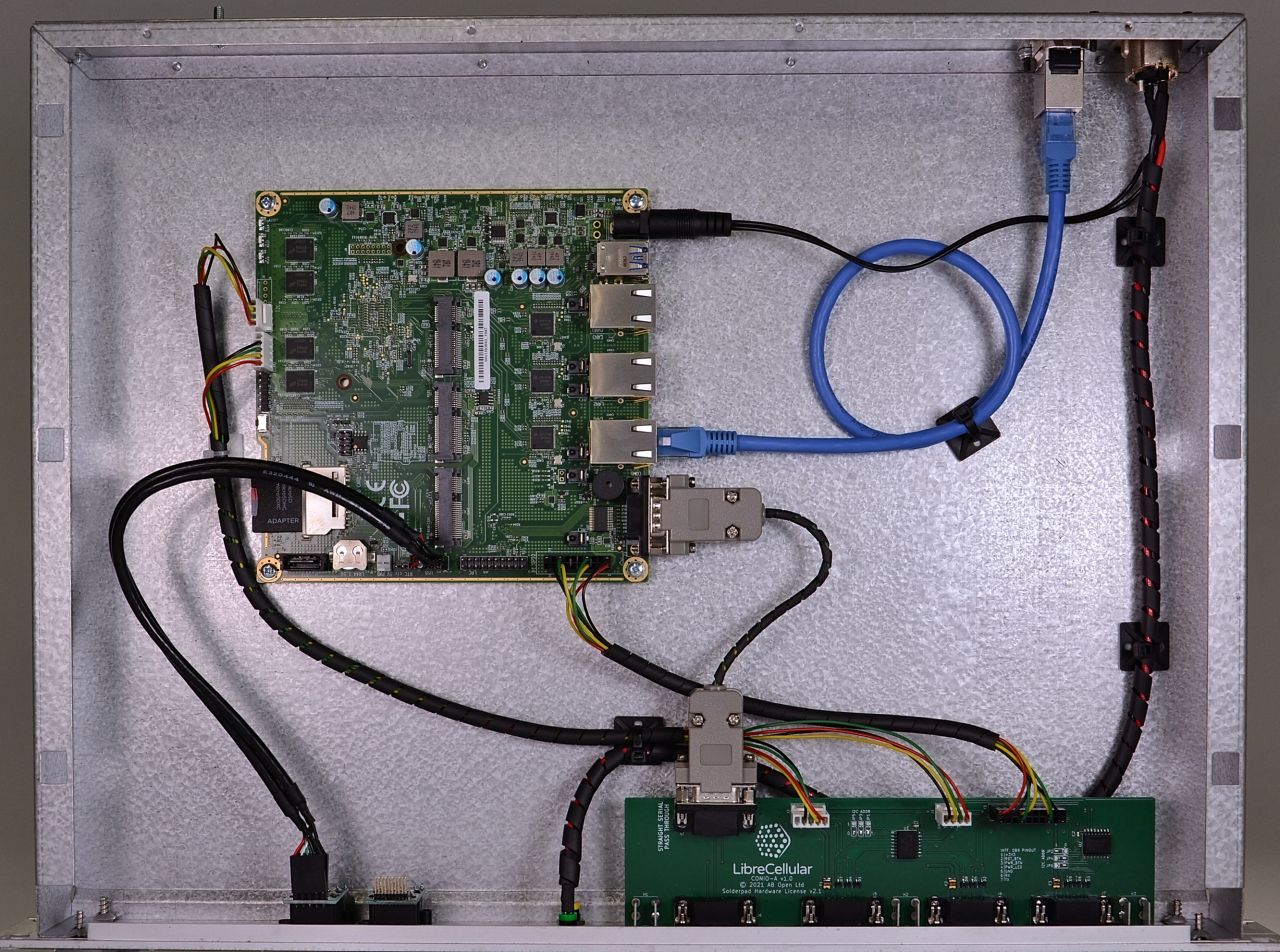 Theory of operation¶
A PC Engines APU2E4 SBC is used together with a LibreCellular CONIO-A board, to provide remote access to base station serial consoles, along with power and reset toggling, via connection to CONIO-B boards at the remote end.
The SBC also provides USB ports, which together with those provided by the CIHOST, may be used to drive cellular modems and control RF attenuators.
Bill of materials¶
¶

| Component | Description | Manufacturer | Man. Part | Distributor | Dist. Part |
| --- | --- | --- | --- | --- | --- |
| Enclosure | 1U Rack-mount enclosure | nVent SCHROFF | 20860122 | Farnell | |
| M1 | PC Engines single board computer | PC Engines | APU2E4 | | |
| M2 | Console IO board | LibreCellular | CONIO-A | | |
| D1 | Panel mount LED indicator, green | RS Pro | 205-331 | RS Components | |
| R1 | 1K ohm 0.25W 5% axial resistor | RS Pro | 707-7666 | RS Components | |
| J1 | Male panel mount XLR connector | Neutrik | NC3MD-LX-M3 | Mouser | |
| J2 | Panel mount ethernet connector | RS Pro | 907-5656 | RS Components | |
| J3 | Panel mount dual USB 2.0 connector | RS Pro | 862-1567 | RS Components | |
| J4 | Panel mount dual USB 3.0 connector | RS Pro | 862-1576 | RS Components | |
| J5 | 2.5x5.5mm barrel plug | RS Pro | 487-854 | RS Components | |
| J6-7 | 2x10 box header | Harwin | M20-1071000 | RS Components | |
| J7-8 | 4-contact female connector | Molex | 22013047 | RS Components | |
| J9-10 | 5-contact female connector | Molex | 22013057 | RS Components | |
| J11-12 | DE-9 socket | RS Pro | 544-3749 | RS Components | |
| CBL1-2 | Internal USB 2.0 patch cable | Startech | USBINT5PIN12 | RS Components | |
| Misc. | Female crimp terminals for Harwin M20 series | Harwin | M20-1180042 | RS Components | |
| Misc. | Female crimp terminals for Molex KK 254 series | Molex | 08500113 | RS Components | |
| Misc. | DE-9 connector shells | MH Connectors | MHCCOV-09SC-LG | RS Components | |
| Misc. | 0.5mm2 tri-rated wire in red and black | | | | |
| Misc. | 1.5mm2 tri-rated wire in red and black | | | | |
| Misc. | 22awg hook-up wire to build signal harnesses | | | | |