CIRAN1¶
This susbsystem is based on the Reference Hardware Platform and is comprised of an SBC, LimeSDR and duplexers, without any RF PA or LNA.
Views¶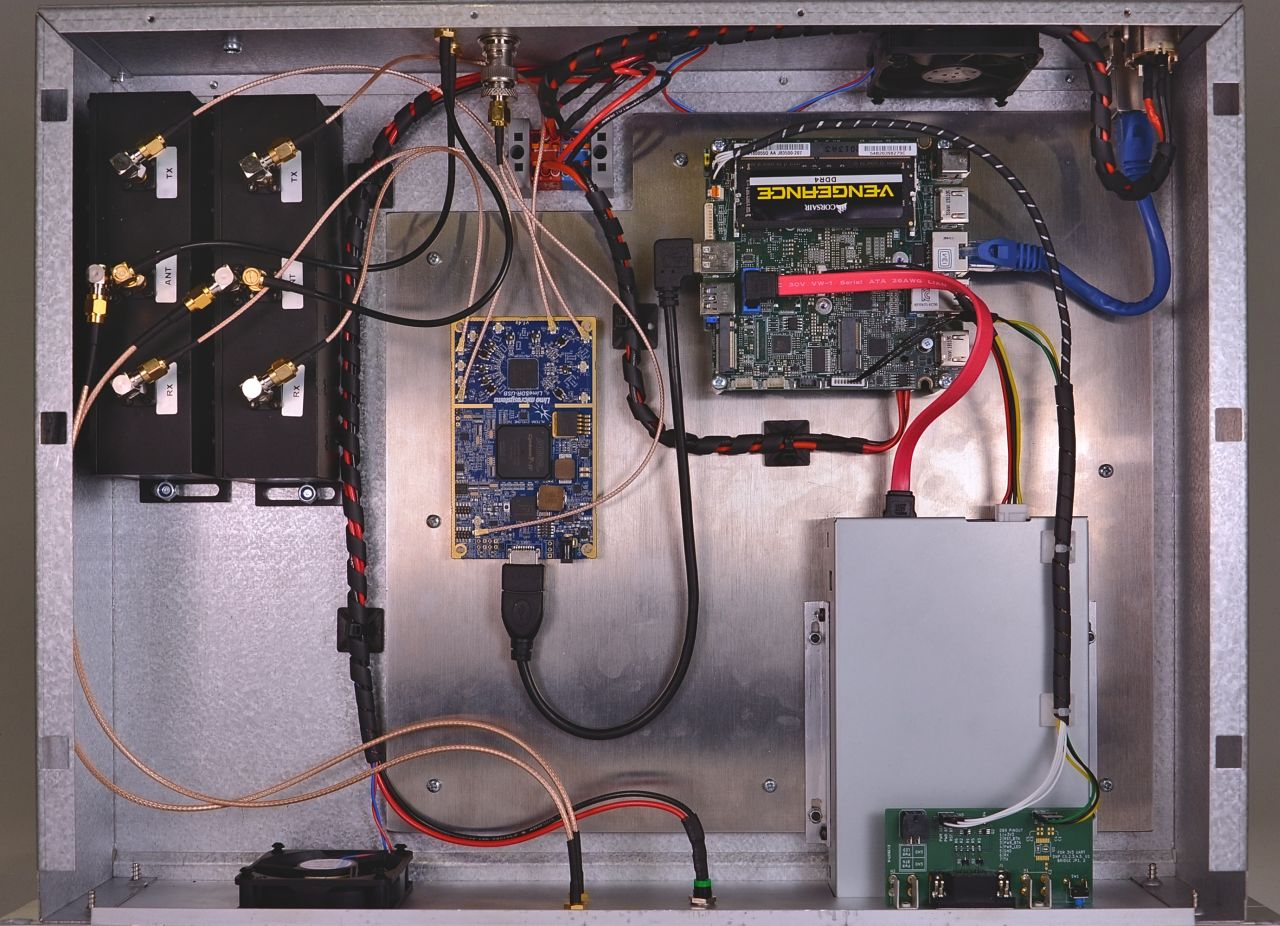 Theory of operation¶
An Intel NUC running Linux and the cellular network stack is cabled via USB 3.0 to a LimeSDR-USB, which Tx and Rx for channels A + B cabled to two Band 3 duplexers. A CONIO-B board is used to connect the subsystem to the CICON for remote console plus power and rest control. An external clock reference is provided via a rear panel BNC connector, with Ch. A and Ch. B RF connected to RF distribution networks. Front panel SMA connectors allow monitoring of transmitted signals, via the duplexers which provide signals coupled at -30dB.
Bill of materials¶
¶

| Component | Description | Manufacturer | Man. Part | Distributor | Dist. Part |
| --- | --- | --- | --- | --- | --- |
| Enclosure | 2U Rack-mount enclosure | nVent SCHROFF | 20860127 | RS Components | |
| MP1 | Enclosure mounting plate | LibreCellular | CIRAN1_Mounting_Plate | | |
| D1 | Panel mount LED indicator, green | RS Pro | 205-331 | RS Components | |
| R1 | 1K ohm 0.25W 5% axial resistor | RS Pro | 707-7666 | RS Components | |
| J1 | Male panel mount XLR connector | Neutrik | NC3MD-LX-M3 | Mouser | |
| J2 | Panel mount ethernet connector | RS Pro | 907-5656 | RS Components | |
| J3 | BNC bulkhead connector | RS Pro | 546-4083 | RS Components | |
| J4 | 10 position female box header | Harwin | M22-3020500 | RS Components | |
| J5 | 6 position female box header | Harwin | M22-3020300 | RS Components | |
| J6 | 3 position female box header | Harwin | M20-1060300 | RS Components | |
| J7 | 9 position female header | Molex | 51021-0900 | RS Components | |
| J8 | 5 position female header | Molex | 51021-0500 | RS Components | |
| J9 | 4 position female housing | Molex | 43025-0400 | RS Components | |
| TB1 | Distribution block with 6 terminals, red | Phoenix Contact | 3002765 | RS Components | |
| TB2 | Distribution block with 6 terminals, blue | Phoenix Contact | 3002761 | RS Components | |
| M1 | Intel NUC single-board computer | Intel | NUC7i7DNBE | | |
| M2 | LimeSDR-USB software-defined radio | Lime Microsystems | LimeSDR-USB | | |
| M3 | Removable hotswap HDD enclosure | Startech | S251BU31REM | Startech | |
| M4 | Console IO board | LibreCellular | CONIO-B | | |
| M5-6 | 1800MHz band 3 duplexer | Sysmocom | dx1800-kt30 | Sysmocom | |
| FAN1-2 | 60x60mm 12Vdc fan | ebm-papst | 612F | RS Components | |
| CBL1-2 | SMA male to SMA female bulkhead | Cinch Connectors | 415-0031-018 | RS Components | |
| CBL3 | Right angle SATA to SATA, 8 inch | Startech | SATA8RA1 | RS Components | |
| CBL4-8 | SMA male to U.FL 250mm | RF Solutions | CBA-UFLSMAM25 | RF Solutions | |
| Misc. | SMA female to SMA male right-angle adapters | Siretta | ADAPT/SMAM/SMAF/RA | RS Components | |
| Misc. | 22awg hook-up wire to build signal harnesses | | | | |
| Misc. | 24awg hook-up wire to build signal harnesses | RS Pro | 841-7229 | RS Components | |
| Misc. | 0.5mm2 tri-rated wire in red and black | | | | |
| Misc. | 1.5mm2 tri-rated wire in red and black | | | | |
| Misc. | 0.5mm2 ferrules | | | | |
| Misc. | 1.5mm2 ferrules | | | | |
| Misc. | BNC male to SMA female | Telegartner | J01008A0017 | RS Components | |
| Misc. | Female crimp terminals for Harwin M20 series | Harwin | M20-1180042 | RS Components | |
| Misc. | Female crimp terminals for Harwin M22 series | Harwin | M22-3050046 | RS Components | |
| Misc. | Pre-terminated Molex PicoBlade cable assemblies | Molex | 79758-0006 | RS Components | |
| Misc. | Molex Micro-Fit female crimp contacts | Molex | 43030-0007 | RS Components | |